Dental Implants

Fairbanks, AK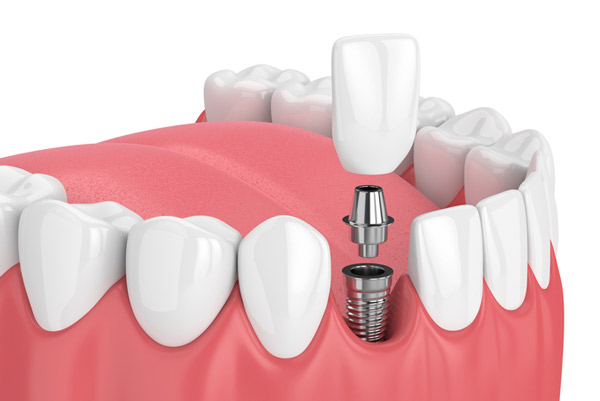 If you have one or more missing teeth, you may be considering dental implants. Dental implants are a highly successful permanent tooth replacement option. Come see us at Fairbanks Periodontal Associates to find out which type of dental implants are right for you.


Which Dental Implant is Best for You?

To guarantee the success of your dental implant treatment and therefore your needs, we will first carry out a personalized and thorough examination, with the corresponding necessary tests, photos, and models to start your treatment plan. Once your exam is finalized and we determine which dental implant option is the best solution for you, we will then confirm a date for your dental implant procedure.


You May First Need Tooth Extractions

Tooth extractions are preferable to leaving an unhealthy tooth in the mouth or letting it fall out on its own, especially if you are planning on getting dental implants. As dentists, we always prefer to save the tooth, but sometimes the best thing for your oral health is to extract an unhealthy tooth. This is especially true when dealing with severe gum disease.

Gum disease occurs when dangerous bacteria are allowed to spread throughout the mouth. These bacteria eat away at the gums and even bones, destroying the structures designed to keep your teeth firmly in place. While the most severe gum disease ends in the natural loss of teeth as the jaw can no longer hold onto them, we prefer to extract them instead.


Bone Grafts

Our dental team will determine if you need a graft after assessing you during your consultation appointment to make this decision, our professional will examine your oral cavity and the images that are collected. The two types of grafts that may potentially be needed before you can get dental implants are soft tissue grafts and bone grafts.


Before getting dental implants, there are a few things to consider. In addition to being in good overall health and having good oral health, there are some other requirements.


Your Jawbone Needs to Be Strong
Your jawbone is what will support the titanium posts that, in turn, support your replacement teeth. If your jawbone has deteriorated due to losing teeth, it may not be strong enough. If that is the case, we can often build the bone back up by performing bone grafts. Before we can do the implant procedure, we will have to graft the bone to your jaw and wait for it to heal, which will add a number of months to the process.


You Cannot Smoke Prior to the Surgery
Smoking, besides being damaging to your health in many ways, greatly increases the risk of implant failure. Before you have your dental implant surgery, you will need to stop smoking and must not begin again until your gums have fully healed up. It is best to completely quit and never pick up the habit again.


Be Willing to Make Some Changes
Finally, you do need to realize exactly what getting dental implants involves. You are going to have several oral surgeries, even if you do not need additional surgeries for bone grafting or for other conditions that must be handled before the implants. You will have to make some changes to your diet while you heal, and you will have to come in for a number of visits so we can check your progress. In some cases, it can be several years before everything is finished.


Types of Dental Implants

Single dental implants are used to replace one tooth. They consist of three parts—the implant, an abutment, and a crown. The implant is like a small screw, which is inserted into the jawbone. To all intents and purposes, it takes the place of a tooth root. Once the implant is placed, the bone and implant fuse together in a process called osseointegration. The process takes around three months.

If you find yourself missing several teeth, a multiple tooth implant may make for a great option when considering methods for restoring both the aesthetics and functionality of your teeth.

A multiple tooth implant will work by replacing your missing teeth, as well as a number of the roots so that you can achieve a secure set of new teeth that will both look very natural. Although other options do exist for replacing a few missing teeth, such as dental bridges, these options require surrounding teeth to anchor the bridge in place and tend to be less durable, and inconspicuous.

The All-on-4 treatment is a special type of dental implant that replaces an entire row of teeth along both sides with just four implants, rather than individual implants for every single tooth. There are two implants for the forward arch, and two for the rear arch.

The conventional technique used before was to use a graft, wait at least three to four months, then place the implant and wait another three to four months before being able to put in fixed teeth that do not need to be removed from the mouth. With the All-on-4 technique, you can enjoy your teeth the same day you leave the office. Therefore, you can avoid months with removable dentures.

Teeth in a Day are used to replace an entire upper or lower arch of teeth. Similar to the All-on-4 Treatment Concept, Teeth in a Day uses four to six dental implants. These implants act as a bridge or overdenture for your teeth.


Are You Ready for Dental Implants?

No matter which type of dental implant restoration you choose, the end result is a full set of teeth and, for many, a renewed sense of self-confidence. You can speak, eat, and smile again without worrying about what your teeth look like. If you are ready to begin talking about dental implants, call Fairbanks Periodontal Associates at (907) 455-7100 to schedule a consultation.


Learn More About Our Dental Implant Services